One of the most common questions I get from people starting out is: "what is the difference between blogging and SBI, and which one should I choose?"
My answer is simple: none of them are better than the other. They are both great platforms that can take you to your desired destination.
The differences between them will determine which one you choose, because each of them require different skill-sets.
I used a car analogy to explain the differences to my mother, and she understood perfectly, so I'm going to use the same analogy here.
The difference between the two is that SBI is a complete car that comes with personal support, a step-by-step manual, and all the tools you'll need to get to where you want to be (i.e. have a successful website).
Blogging on the other hand is more like the frame of the car. It gives you a platform to get to your destination, but you will have to find the missing pieces and put it together (or pay someone to do it).
With that said, let's look at both SBI and blogging in more depth.
SBI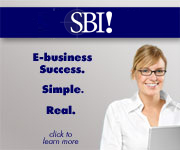 SBI is called by many names: Site Build It, SBI, and sitesell, but they all refer to the same thing.
There are some restrictions to SBI, so it isn't perfect, but if you're not a programmer, you will most likely never even notice them.
They've written about the differences between blogging and SBI themselves in great depth, so check that out if you're interested.
I have two SBI websites, which bring in almost $2,000/month for me, and I've used their tools, services, and hung out in the forums since 2007.
Building a successful website requires a lot of hard work, like with anything else, and SBI is no different, but the tools are there.
Here's a quick rundown on what's included in the $29/month or $299/year price tag of SBI:
Domain name
Hosting
Finding your niche brainstorming tool
Keyword research tool
E-mail list manager
Create polls and surveys
Easily customizable designs
Huge forum with helpful people
The possibility to add a blog, store, or forum to your site
Support if you need it
A step-by-step action guide to weave it all together (in text and video form)
There's more to that list, but these are some of the things I think are the most important.
SBI also eliminates the need to worry about keeping your website up-to-date, making backups, fighting against hackers, and dealing with technical glitches.
Blogging
The natural question then becomes: why did I start blogging if SBI was giving me everything that I wanted?
For the same reason you're interested in blogging; everyone else is doing it, and it seemed like a lot of fun.
Blogging is a great platform if you're okay with having a slightly steeper learning curve, but more flexibility down the road.
I personally love both blogging and SBI, and if you wanted to, you could do what SBI does with blogging.
The most popular platform for blogging is without a doubt WordPress, and if you do want to blog, it is possible even if you aren't technically savvy.
Especially if you choose a good host with great support. I personally use HostGator for most of my sites.
Everything can be learned.
There are great step-by-step training programs out there, such as my own Lifestyle Liberation Academy community, where you get all the training you need + the support.
All the information you need is available online for free, so if you're willing to spend some time doing your research, you don't have to join a training program, although I personally recommend you do, because it saves a ton of time.
Let's Sum It Up
If you're not tech-savvy, and want to get as far away from anything technical, I recommend SBI. If on the other hand, you like blogging, and don't mind getting your hands dirty, then blogging is for you.
In the end, it all depends on what you feel drawn towards, and what you want to do.
There are no magic bullets. There are no secrets.
There's just the work you put in.